A "Mud Angel" who also helped after the Vayont tragedy as well as during the floods in Versilia last June
An account by Salvatore Franchino (I)
"I came to Florence in 1961 from Senise, in the Province of Potenza, where I worked as a carpenter. I came to Florence because I loved art and wanted to learn how to do restoration. I therefore worked for three years for a firm that used to restore works of art in wood for the Board of Cultural Assets.
I was 25 years old in 1966, at the time of the flood, and spent the first week taking food to people who were unable to leave their homes, in particular to the elderly. I remember I took some bread to one old man but he was far more interested in asking whether I had brought him some cigarettes than in the food.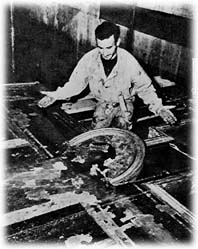 Salvatore Franchino helps work on the Crucifix by Cimabue
After a week, I was sent to the sacristy of the Church of Santa Croce, where I helped bring out the Cimabue crucifix. Then I worked in St. Marks and S.S. Annunziata.
I have been a volunteer since 1963. At the time of the Vayont tragedy I went to help the population at the risk of losing my job. The Civil Protection service did not exist in those days. Nowadays I am a member of the Fratellanza Militare of Florence and went as a volunteer to Versilia after the floods there last June.
---
BACK
---
---

megaŠ Via Lombroso 6/5 a
50134 Firenze
fax +39 55 4620256
Email mega@mega.it