"I'd like to find the third friend I worked with during the flood"
An account by Captain Riccardo Romeo of the Italian Red Cross (I)
"I lived in an area of Florence that was left untouched by the flood. I was 14 years old at the time and still at the lower middle school. The day after the disaster I went with some friends to see the areas that had been flooded. We went to Piazza Duomo and saw all the people covered in mud, hard at work to save what was saveable, and immediately decided to try and help those who had suffered in the disaster.
Through our parish church organization, we took food around to the population and asked if they needed any help. Many people told us which areas were hardest hit and where there were people who had particular need of us. Coordination or preparation for this type of work did not exist in those days, there was just a great desire to help. In my opinion, our volunteer services of today were born during the flood in Florence.
My experience as a volunteer during the 1966 flood in Florence changed my life. Now I work for the Civil Protection service and am an officer in the Red Cross.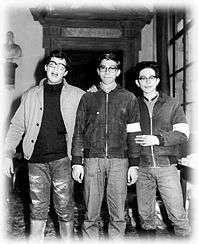 Unfortunately the situation of the Arno basin is still far from safe, in fact it has got worse in the last 30 years because of the use of cement everywhere.
This photo shows two friends of mine with whom I worked during the flood and the reason for this appeal. The photo was taken by one of the photographers covering the disaster who gave us each a copy.
I have already found Massimo Fabbri, the boy in the centre, as a result of these photos being published. Now I still have to find my third friend who, if I remember rightly, was called Paolo, and whose father worked in Milan. I can't remember much else about him".
Captain Riccardo Romeo, Phone: 0360 859767
---
BACK
---
---


megaŠ Via Lombroso 6/5 a
50134 Firenze
fax +39 55 4620256
Email mega@mega.it