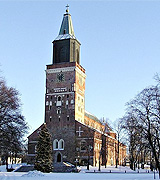 Situated on the Stockholm-St. Petersburg axis, Turku is an important gateway between East and West, as well as the regional and administrative centre of West of Finland.
The city is a fascinating combination of past and present. It is a centre of high technology and a nationally significant seaport, but also the home of three universities and the most famous city of culture in Finland, offering a high-quality cultural programme throughout the year.
The comprehensive information of the official website is available in English, Finnish, Swedish, Russian and German.