by Silvia Messeri



"Saved from the Waters"
A treasure to admire at Palazzo Vecchio

Forty-five exhibits on display, forty-five examples of the artistic heritage of Florence which are also one of the riches of all Mankind, can be seen in the exhibition in the Arms Room in Palazzo Vecchio, open since November 4th, which will continue until February 2nd. The organizers of this unusual exhibition have called it "Saved from the waters". In fact, it was organized by the Board of Artistic and Historical Assets, the Opificio delle Pietre Dure and the City Council of Florence to coincide with the thirtieth anniversary of the flood, in order to inform people on the work that has been carried out to date.

The cover page of the exhibition catalogue

It has taken thirty years to restore the works of art damaged in the disaster of 1966. These are represented here by some of the more important of the restored masterpieces but we can also find works that are still being restored, together with others that are unfortunately still awaiting the chance to be given new life. The works on display include Donatello's "Magdalen", a panel from the Door of Paradise by Ghiberti, two statues in wood (St. Nicholas and a Christ whose origin is unknown). The financial contributions towards restoration nowadays only permit the recuperation of about ten art works a year. We should bear in mind that about 1500 paintings on canvas and wood were damaged in the flood and that 450 still have to be restored. These masterpieces include "The Last Supper" by Vasari, a six metre wide painting that comes from the Museum of the Opera of Santa Croce, which is still covered in the temporary protection placed on it in 1966, and of which there are no illustrations previous to 1966. According to an estimate carried out by Dr.ssa Magnolia Scudieri, one of the curators of the exhibition, it will probably cost at least 80 million lire (about 55.000 US$) to restore this work.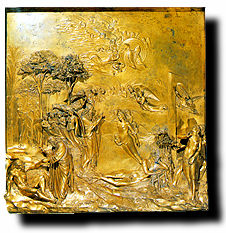 Creation of Adam and Eve,
restored panel of the Door
of Paradise by Lorenzo Ghiberti

However the storerooms still contain a great many furnishings from the Florentine churches, statues and bronzes mostly dating from the 14th and 15th centuries. The exhibition also includes a statue of Christ in wood which has recently been adopted by a group of people who will thus guarantee its restoration. See also: Interview with Dr.ssa Cristina Acidini, Vicariate Head of Artistic and Historic Assets
---



FAN-Florence ART News
a cura di
Silvia Messeri & Sandro Pintus