Special edition:
the National Central
Library of Florence
by Sandro Pintus


The National Central
Library of Florence
A 280 year old history

The National Central Library of Florence, which contains works of inestimable historical, literary and artistic value, often unique examples, was one of the most illustrious places to be damaged by the flood on November 4th 1966. The Library's history dates back to over 280 years ago when, in 1714, Antonio Magliabechi donated his collection of books in his will to what was eventually to become the National Central Library of Florence. It was not until 1747 that the first real public Library was actually created " ...for the universal benefit of the city...", according to the stipulations in his will.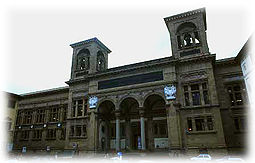 The entrance of the
National Central Library of Florence in
Piazza Cavalleggeri (photo FAN ©1996)

Magliabechi, a scholar of his time, was also an avid book collector, bibliographer and, for his merits, the Grand Duke Cosimo III charged him with looking after his own books as well as those of the Palatine collection in the Pitti Palace, moreover, once he discovered the intentions of the learned librarian, the Grand Duke made some rooms available for him in Palazzo Vecchio which eventually contained about 30 thousand works, manuscripts and printed books included. When the rooms in Palazzo Vecchio became too small for the collection, the library was moved to the Uffizi where the books from the Medici-Palatine-Lorraine Library and several other collections, including those of the Academy of the Crusca, the Hospital of Santa Maria Nuova, the Florentine Academy and the Academy of the Apatisti, as well as from several convents, were also added to it. In 1736 the Grand Duke decreed that all editors and printers who published anything inside the bounderies of the Grand Duchy had to give a copy to the library. This led to an ever increasing number of books entering the Library. The library we see today, however, is the first modern library building to be built and was inaugurated in 1935 by Vittorio Emanuele III.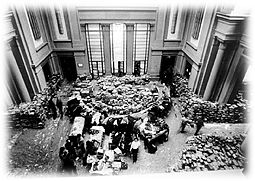 the National Central Library of Florence
after the flood
(photo National Central Library)

Thirty years ago the flood brought volunteers from all over the world to save the books preserved in the National Central Library of Florence, among them American senator Edward Kennedy who came as a sign of the solidarity of the world. He returned for the 30th anniversary of the flood and visited the National Library again, as a reminder that all the young volunteers who came to save culture were also saving their souls. see also: A network that links up 450 libraries 5 million priceless books
---



FAN-Florence ART News
by
Silvia Messeri & Sandro Pintus