by Sandro Pintus

A guide to discover the art of this century in Florence
A collection of over 350 works

When we think of art in Florence, we usually tend to remember all its Renaissance palaces and churches, the Uffizi Gallery and its many works of art. Very few people know about all the 20th century works of art that can be found in Florence.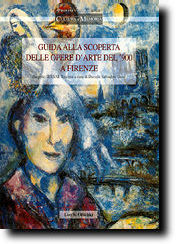 the "Guide to the discovery of the
20th century works
of art in Florence" published
by Leo S. Olschki, Florence

With the City Council of Florence and the Cassa di Risparmio of Florence, the Leo S. Olschki publishers have in fact just brought out a book entitled "Guide to the discovery of the 20th century works of art in Florence" that describes this unknown aspect of the city. It is a large 260 page book containing roughly 250 black and white and colour photographs that illustrate many of the works to be found in the guide. It is a beautifully conceived book and is designed to help the visitor move easily around the city, thanks to the maps indicating where each particular art work can be found in the various areas of Florence, together with detailed information on how to get to the most important sites. It mentions over 350 sculptures, fountains, frescoes and murals, paintings and memorial tablets of the 20th century that can be found scattered all over the Florence, often hidden in the midst of the historic palaces, squares and gardens, in tabernacles or inside the city hotels or bars.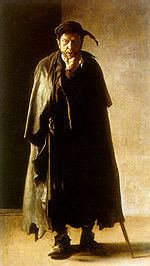 "Cinciarda" (1945), by Pietro Annigoni, one of the paintings that can be
seen in the artist's studio (by appointment only) in Borgo degli Albizi, 8.

We can thus discover the splendid Liberty style palace in Borgo Ognissanti or Villino Lampredi, designed by Giovanni Michelazzi in the first decade of the century, or the 1920 decò style external lantern of the Odeon cinema, held up by bronze youths. We can visit the studio of Pietro Annigoni (link with article fant/art/spitt.htm) in Borgo degli Albizi (by appointment only) containing some of the artist's most important works. However the guide also shows us the marble sculpture at Porta Romana by Michelangelo Pistoletto, carried out in his typical "unfinished" technique that almost seems to be trying to challenge the laws of equilibrium.
Some of the works of more recent years include the funny bronze "Bird" by Fernando Botero at the exit from the airport in Viale Guidoni and the "Circulare sculpture" by Francesco Cremoni, both carried out in 1990.
A list of both the artists and the streets helps us complete our research of 20th century art in Florence. This book, which costs L. 57.000, is a really useful instrument for all lovers of the art and culture of this century.
---



FAN-Florence ART News E-mail: csplanet@comune.firenze.it