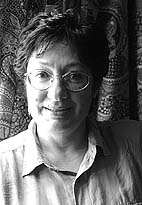 by Angela Tumminelli






1st Florence Biennial
A Success with the public
The exhibitions may stay open longer than planned

The first edition of this project, based on an idea by Luigi Settembrini and Roberto Rosati, and conceived as a huge parade, where fashion and art are put on show and allowed to express themselves in detail, has been staged in a series of different settings, some of which are of great prestige. We can in fact find art and fashion performing on such stages as the Uffizi, Fort Belvedere, the Academy Gallery, Orsanmichele, the Pecci Centre at Prato and other museums, including the Stazione Leopolda, until December 15th.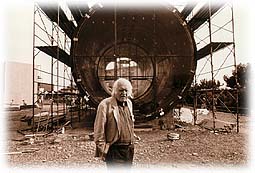 Mario Merz in front of his "wind machine"
(Photo by Gianfranco Gorgoni, with the kind permission of the press office of the
Biennial of Firenze)

At Fort Belvedere we can find an analysis of the relationships that link Art and Fashion from the beginning of this century to today. Seven extremely original containers, created by the architect Arata Isozaki, enclose stagings that are the result of a collaboration between designers and artists. Some of the most exciting include the ones carried out by Roy Lichtenstein, famous for his Pop Art, with Versace, the fashion designer, and Mario Merz with stylist Jil Sander.

The Emilio Pucci exhibition in the
Sala Bianca at the Pitti Palace
(Photo by Gianfranco Gorgoni, with the kind permission of the press office of the
Biennial of Firenze)

"Visitors", where a link-up has been created between history and the important sites and personalities of art and fashion, has been set up in 20 different museum structures; here an equal number of stylists venture, each in his own particular way, into a sort of dialogue with the past. FerrË, with his "flying crinolines", can be found at the Medici Chapels, while Armani, with 14 beautiful dresses, is in the first corridor of the Uffizi Gallery; other splendid clothes, this time by Valentino, surround the imposing statue of David by Michelangelo. However we can also find Dolce & Gabbana's creations at the La Specola Anthropological Museum and Romeo Gigli's floating, airy dresses at the Marini Museum, where an environment has been created to involve all the exhibition structures which are wrapped in thick tulle. Apart from the "New Persona/New Universe" show at the Stazione Leopolda and the exhibition-laboratory at the Pecci Museum in Prato, several other important exhibitions, containing what can be considered real monographies, form part of this first Biennial. Emilio Pucci in the White Room at the Pitti Palace; Bruce Weber at the Ferragamo Museum; and lastly, Elton John at the old Royal Post Office (Uffizi). Proof of its success is the fact that over 20 thousand tickets were sold during the first week alone. For further information on prices and the opening hours, that vary according to each exhibition, please phone 055/2340742.
See also: New Persona/New Universe, the transformation of the human body and the identity of the part it plays
---



FAN-Florence ART News
by
Silvia Messeri & Sandro Pintus