by Silvia Messeri




Incredible machines
from Brunelleschi to Leonardo,
human invention during the Renaissance in an exhibition in Florence

Machines designed for war, machines invented to help in the construction of imposing architectural buildings; machines dreamed up to either fly in the sky or move along sea and river beds. These can all be seen at the "Renaissance engineers exhibition - from Brunelleschi to Leonardo da Vinci", at Palazzo Strozzi in Florence until January 6th 1997. Carried out by Finmeccanica and the Institute and Museum of the History of Science in Florence, whose director, Paolo Galluzzi, also conceived and organized it, the exhibition contains about fifty working models of the machines invented by the great masters of the Renaissance, all of them created in life size in the same materials - elm, oak and chestnut - that were used for the original machines.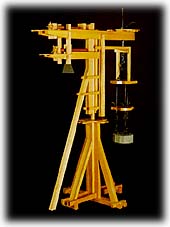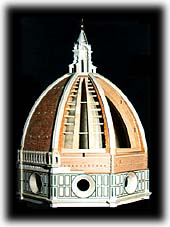 Revolving crane: Working model - (on the right)
Model of the cupola and the tambour scale 1:20

Visitors are welcomed at the entrance by a splendid model of a flying machine, designed by Leonardo, and then follow a route through the three sections into which the exhibition is divided.
The first section, dedicated to Brunelleschi and the cupola of S. Maria del Fiore, displays a beautiful model of the cupola measuring 4 metres in height and over 3 metres in diameter, together with the reconstruction of some of the machines and devices designed by Brunelleschi and which enabled him to carry out an enormous structure like this without using any supporting centering. The section on the Sienese engineers contains manuscripts and reproductions of original drawings and instruments by Mariano di Iacopo, known as Taccola, and Francesco di Giorgio, who are the most famous representatives of the technical traditions of Siena. The last section is dedicated to Leonardo, with machines and mechanisms; here the models become imposing while the drawings and manuscripts that illustrate how they function are quite fascinating. As from September visitors will also be able to admire the Codex on the flight of birds containing Leonardo's sketches and notes on what was then such a great challenge for man: how to steal the secret of the birds and learn to fly up into the sky.

See also: The machines used for the construction of the cupola





FAN-Florence ART News
by
Silvia Messeri & Sandro Pintus