Giò Pomodoro
Sculptor in Florence

Florence - Palazzo Vecchio - Room of Arms
The Artist exhibits in Florence after an absence of 40 years
Curator, Giovanni Carandente




On Wednesday April 3rd 1996 at 5.30pm the exhibition entitled Giò Pomodoro Sculptor in Florence will be inaugurated in the Room of Arms in Palazzo Vecchio. It has been organized by theFlorence Councillor for Culture in collaboration with the Centro Culturale Il Bisonte with the partecipation of the Generali insurance company. Catalogue by Edizioni Centro Culturale il Bisonte. The exhibition - which will also be open during the period of the summit meeting of the European Union in Florence to conclude Italy's six months Presidency - - marks the return of Giò Pomodoro to the main city of Tuscany after an absence of forty years and includes 16 sculptures (4 in stone, 12 in bronze), 14 large paintings, new to the public, carried out from 1986 onwards (13 water colours on hand-made Spanish paper and SYRACUS, an oil painting of 1994) and the bronze model for his SUN FOR GALILEO GALILEI (1996).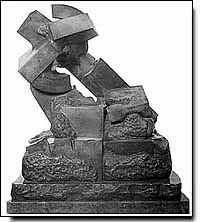 foto di Corrado Sacchi


Since 1952, the year of his debut, to the present day, the Artist has shown his work in almost all of the important museums and galleries in the world and in most major international exhibitions: Sao Paolo in Brazil, Tokyo, Montreal, New York, Berne, Duisburg, Lugano, Tel Aviv, Milan. We would like to mention some of the works of monumental character designed for public use by this artist, who has always been strongly influenced by a profound civil vocation: Isla Negra, to Pablo Neruda, (Prato); Plan for Collective use architectural work dedicated to Antonio Gramsci (Sales);Spiral '82 (Milan); Theatre of the Sun - June 21st, Summer Solstice (Frankfurt); Montefeltro - Steps and turns (Lugano); Sun Airspace (Turin); Spiral for Galileo Galilei (Padua); Sun Stairway - homage to Keplero (Tel Aviv).



-INFORMATIONS-