by Sandro Pintus

Let us learn to love
both ourselves and the Earth
Interview with Hyemeyohsts Storm, Medicine Man and writer

While his first book, "Seven Arrows", written in 1972, is now in its 45th edition and even translated in Japanese, French and German, "Lightningbolt", published by the Ballantine Books of New York, has only just come out. This is the author Hyemeyohsts (Wolf) Storm, Storm's fifth book and it took him 10 long years to write this epic which contains the teachings that have been passed down by the American Indian wise men and women, known as Zero Chiefs, ancient teachings that are 10.000 years old, and as valid today as ever. In this exclusive interview for Blue Planet, he explains some of the contents in "Lightningbolt".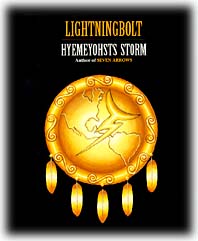 The cover of "Lightingbolt" by Hyemeyohsts Storm
published by Ballantine Books, New York

Mr. Storm, what can we do to help the planet we all live on? Over the past 100 years, many of the religions on this planet have thought of Mother Earth as being a place where people have an address and not as somewhere where they have to live; what is happening to our planet is the result of this terrible way of thinking. I received my first contact with the Medicine Wheel from Estcheemah, my teacher of medicine, when I was an angry young man. Thanks to her teachings, I became an Earth Priest because the Earth is mother to all. We can all still remain Catholics, Protestants, Buddhists, Moslems or any other religion and still continue to love ourselves and the sacred Mother Earth. We are all born to appreciate Life, we learn to cry, to love, to know, to feel and have experiences. We are born for this reason.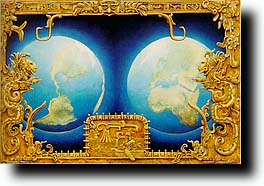 "Mayan Frame of two Globes of Earth",
designed and painted by Red Wolf published in "Lightingbolt"

Your last book tells the story of your life but is also a book full of teachings that are, as a rule, unknown in the west. What are the Powers of the Four Directions that you talk about in your book? My book talks about the story of my life and the knowledge I learned from Estcheemah, a wise woman and Zero Chief; she chose me because she wanted me to spread her teachings in the world of the white man. The Four Directions stand for the four elements, Water, the Earth, Air and Fire (Morealah,Ehahmah, Wehomah and Cheemah) from which everything is born. South is Water which represents the world of Emotion containing Innocence and Trust; West is the Earth and represents Substance with Introspection and Intuition; North is Air and represents the Mind where we can find Wisdom and Understanding; East is Fire that represents the Spirit and contains Illumination. All this forms a Sacred Circle that is in continuous movement.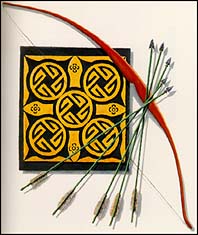 "The Renewal: 21 Shield",
design by Hyemeyohsts Storm, painted by Red Wolf published in "Lightingbolt"

Why did Estcheemah choose you to teach these Laws to the Western World? I am the child of a Cheyenne mother and a German father. I spent my childhood in an Indian reserve where I saw poverty and drunkenness but I was also brought up in the midst of an Indian culture. I had to learn English, which is a foreign language for us, and I learned to write. I was considered a half breed by both white men and Indians and it was precisely for this reason that Estcheemah decided that I was the best person to create a bridge between the world of the Indian and that of people of other races.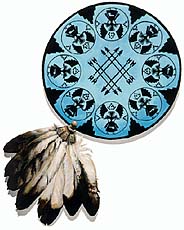 "Spider Woman Shield", design by Hyemeyohsts Storm, painted by Willow LaLand
and ""The Circle of Law", design by Hyemeyohsts Storm, illustrated by Black Wolf

You talk about Zero Chiefs in "Lightningbolt", who are they? Estcheemah was the first Zero Chief I met, but it is impossible to talk about Zero Chiefs in just a few words. To be as brief as possible, I can say that they were and still are the carriers of knowledge about the Medicine Wheel. Zero Chiefs are the people who first discovered the Medicine Wheel and the relationship between the science of the Earth and our Universe. They had a sophisticated knowledge of Mathematics and the Medicine Wheel helped them discover a great deal of extremely important information about the human mind. You have founded a school of Artists. Can you tell us more? The "International School of Metis Arts" is a school that accepts Artists without any racial distinction from any country in the world; here each artist is free to carry out his own Art form by learning from the Beauty of Mother Earth. Hyemeohsts Storm will be in Italy from the middle of November until early December. For further information please phone 0575 650117.

---