by Susan Glasspool



Christmas in Florence




Christmas is coming. Florence begins tarting herself up so that her fine festive clothing will make her more fascinating than ever. The streets are brightly lit by the shop windows with their wonderful wares, decorated, as only the Florentines know how, with that mixture of good taste and tradition that is perhaps only to be found in this city.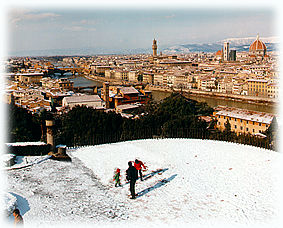 Florence in the snow

Certainly the Christmas decorations in the streets of London or New York are far more spectacular; here there is instead an intimate atmosphere, a feeling of the past, perhaps the elegant refinement of the Renaissance that comes to life again for just a fleeting instant at this time of the year. Each street is decorated according to the tastes and inspiration of its shopowners. Whether it is raining or freezing cold, with the north wind blowing down from the mountains, the people seem to be merrier and freer; their arms piled high with beautifully wrapped and beribboned parcels and packages, they hurry round the streets of the city with red cheeks and steaming breath; and take a good look at the faces of these Florentines: haven't you already seen them before in one of the paintings in the Uffizi. The ever rarer craft workshops, that continue the traditions that have made Florence so famous all over the world, are full of people, buying their hand made and, yes, today, even factory made products, which however still maintain all the quality of the past. The textiles, porcelain, silver and goldware, shoes and leatherwear are part of this unique inheritance; therefore, when you buy something here you will really be buying a bit of history as well. The churches in Florence, so mystic and mysterious even for non Catholics, celebrate one of the most profound moments of religion at Christmas time; solemn masses, concerts and splendid Nativity scenes, some static, some mechanized, are held to greet the birth of Christ. During the Christmas festivities the city gets even more crowded and frenetic than usual but it is always unique; it enchants the foreign visitors walking through it, especially when they encounter the sound of the zampogna (a kind of bagpipes) or the smell of roasting chestnuts. Perhaps this is one of the best times to feel the real flavour of this ancient city - whose rich history is so very important to the Florentines - which is also moving with the times to prepare in the best possible way for the year 2000.
---
In collaboration with: