by Sandro Pintus

European animals and plants
A CD-Rom with 300 sections on the flora and fauna of the European continent

This work takes us on a naturalistic virtual journey through Europe which is not simply limited to the scientific point of view but also teaches us about the habitat in which our "travelling companions" from the animal and plant kingdoms live. This CD-Rom by Editel of Milan is entitled "European flora and fauna " with 300 sections to see, read and, thanks to its sound track, also hear. An intersecting division has been created in the CD to link up the various types of habitat and animal or plant kingdoms and we can travel throughout the hypertext from here. We can also look up any subject of interest in the quick and easy to consult alphabetic research index. The area that covers the fauna is in its turn divided up into various classes that range from insects to mammals, with the exclusion of fish, and a special icon for butterflies; the plant kingdom is instead divided according to the colour of the flower of the plant we wish to find.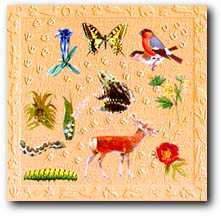 The Cover of the CD-Rom by Editel

The way the various habitats have been divided is extremely interesting. We are given the chance to get to know all about the animals that live in the seven environments examined here: the habitats of coastal, marshy, fluvial, agricultural, cultivated and mountain areas, high altitude and urban habitats. It is also possible to print out or copy texts and images (with the right programme) or alter it and some of the sections on birds also include the various types of bird song. Its retail cost is 49.000 lire, while minimum requirements are, apart from a CD-Rom reader, a 386 PC with 4 MB of Ram, a Super VGA file, an audio file (optional) and Windows 3.1. installed. See also: Allarm for the "Humid Zones in Europe"





FAN-Florence ART News
a cura di
Silvia Messeri & Sandro Pintus