by Sandro Pintus


Discoveries in the Torre de'Pulci
during its restoration

The historic home of the prestigious Academy dei Georgofili has been restored using delicate and complex techniques. All its books, works of art and furnishings are now back in place. Only the five canvases by Bartolomeo Bimbi are still missing. Unfortunately two of them were completely destroyed and are lost forever. The restoration was so meticulous that a mediaeval staircase, built around a well dating from the period of the early Renaissance, was discovered in the interior of the palace. This discovery came about almost by chance, because it was hidden behind some walls, and just goes to confirm the true architectural value of the building.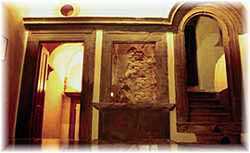 The Renaissance well which was found during restoration

The mediaeval staircase linking the first floor with the mezzanine floor is decorated with stone capitals which experts have pronounced as being of very fine quality; the deep well, today dry, once supplied the household with water. We can now admire this well through some glazed windows that enhance its beauty with a delightful play of light. However these were not the only discoveries that were made while the building was being restructured. Several new rooms that had been been walled up and unused for several centuries were discovered while looking for suitable spaces to prepare for the Academy's archives and the library. These rooms have now been restructured, climatized and specifically prepared for the storage of archive material. See also: The reopening of the Academy of the Georgofili A short history of the Georgofili





FAN-Florence ART News
a cura di
Silvia Messeri & Sandro Pintus