by Silvia Messeri

Notes on the restoration work
Leo X and the other 16th century paintings

The collaboration between public and private means has again given excellent results. Gruppo VéGé in fact financed the restoration work for the four 16th century masterpieces now on show in the Uffizi until June 5th. These paintings - oils on wood - all had various problems though the most difficult question to resolve was how to repair the damage caused by previous restoration and cleaning. This damage was considerable if one thinks that, between the 18th and 19th centuries, one of the methods used for cleaning a painting consisted in covering it in oil, setting fire to it and immediately suffocating the flames with a wet cloth. This was done to dissolve the dirt and, though it certainly worked it also removed large flakes of colour in the process.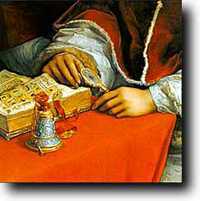 Detail of the Madonna and Child by Pontormo

It seems that this method was also used on the Leo X by Raphael, restored by Prof. Alfio Del Serra. Once the layer of oil and resin varnish that darkened the painting had been removed, the magnificent interchange of reds, cleverly touched up after the destructive cleaning it received in Paris between the 18th and 19th centuries, came to light again. The results of the infrared examinations are interesting because they show that there is absolutely no sign of any graphite drawing beneath the figures of the two cardinals.
The restoration of the Madonna and Child with the young St. John by Pontormo, carried out by Rossella Lari, has given new life and light to the colours of the painting, ruined by an earlier drastic cleaning.Muriel Vervat worked for a year on the Allegory by Battista del Dosso's friend from Friuli.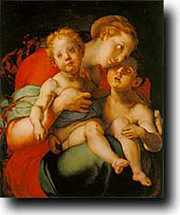 Detail of the Madonna and Child by Pontormo

The painting had been badly damaged by earlier cleaning where caustic soda had also been used, so that the colour in certain areas was raised, and other parts had been filled in with plaster. Sandra Freschi and Nicola MacGregor restored the Deposizione by Cigoli, damaged in the flood of 1966 . The restoration of all the wooden bases were carried out by Roberto Buda. Se also: Restoration of the Leo X three 16th century paintings





FAN-Florence ART News
a cura di
Silvia Messeri & Sandro Pintus