by Sandro Pintus


Interview with a poet of restoration
Alfio Del Serra, one of the restorers of the paintings in the Uffizi

We were able to interview Alfio del Serra, one of the most prominent restorers of works of art, after the recent completion of the restoration on some of the works in the Uffizi, among them the Leo X by Titian. Professor Del Serra, who is 65 years old with forty years' experience in the field of restoration, is one of the most important specialists in the Florentine and Italian schools of restoration. He has been working at the Uffizi since the 1980's and restored paintings by Giotto and Cimabue,Botticelli, Raphael, Andrea del Sarto and other artists and is now working on the restoration of Titian's "Venus". Extremely critical of the methods used by the British school of restoration, he shows us some of the paintings he has restored in the past, now exhibited in the Uffizi. His love of art is obvious and he looks at the paintings he has brought back to life with reverence and respect, explaining certain details that a layman would never otherwise have noticed, like the almost three dimensional beard in one of his restored crucifixions or the wonderfully luminous pearl grey used for Botticelli's Venus which comes from the age of the pigments used for the colours.
Prof. Del Serra, what is the real task of the restorer? It is a universal task. It includes the conservation of the painting and its aesthetic aspect. Often the two go together. As far as its aesthetic aspect is concerned there are different, and often opposing, opinions as to the best cleaning methods. Personally I tend to prefer the rich and varied view of the old Florentine traditions based on a conservative method that has wrongly been defined as soft, compared with the more radical English school (the cleaning of the entire surface). The restored paintings in the National Gallery in London look as though they have been washed in a washing machine. They tell me that when I clean a painting one can hardly see that it has been cleaned. To me that is a compliment.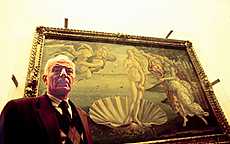 Alfio Del Serra in front of the Venus by Botticelli which he restored

What painting gave you the most satisfaction during restoration? It is difficult to give an answer but I think that it was the "Birth of Venus" by Botticelli. One of the major problems was how to remove the marks of oil and I decided that I would only restore it if I could find a way of removing them without damaging the original varnish, otherwise there was a risk of destroying certain postulates possessed by the painting. It took me almost a month to find a solution to the problem.
What do you feel when you are faced with an important painting to restore? I am filled with immense respect, reverence and consideration. I start out by bearing in mind that it is only possible to do one's best, however the most important thing is to love what one is doing. Heart and mind must work together. The mind must understand and the heart must follow. See also: Raffaello and Others Notes on the restoration of the paintings





FAN-Florence ART News
a cura di
Silvia Messeri & Sandro Pintus