by Silvia Messeri





Raphael and Others
Four masterpieces of the 16th century return to the walls of the Uffizi

"The restoration of the Leo X by Raphael and three 16th century masterpieces" is the title of this exhibition in the Uffizi, organized by Antonio Natali, which will stay open until June 5th and be offering the public the chance to see four recently restored masterpieces of the 16th century.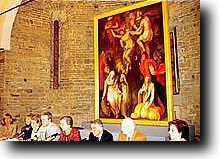 The presentation of the paintings

The painting of Leo X with Cardinals Giulio de' Medici and Luigi de' Rossi, by Raphael Sanzio, is certainly the most famous among those on show in the exhibition. Looking at it, it is easy to understand why Vasari so admired it; when he described the Pope's vestments, he wrote about the "soft live hairs in the lining" and the silk damask "that rustles and shines". Then he also described the ball decorating the chair as being "of polished gold which, like a mirror, casts the reflection from the light from the windows onto the shoulders of the Pope and the walls of the rooms".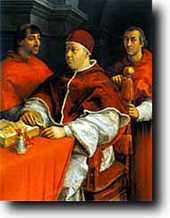 Leo X by Raphael, one of the restored works

The extremely beautiful panel of the Madonna and Child with young St. John is instead by Jacopo Carucci, known as Pontormo, and, in the past, has also been interpreted as a portrayal of Charity. Thanks to its restoration, this painting can now be admired in an exhibition that will be opening shortly on the early work of Pontormo and Rosso Fiorentino. The Allegory, attributed to Battista del Dosso's friend from Friuli, had been relegated to the storerooms of the Uffizi for years because of its very poor state of preservation and is now being exhibited in public for the first time.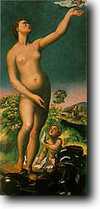 Allegory

The exhibition closes with an imposing Deposition, a youthful work by Lodovico Cardi known as Cigoli. Displayed until recently in the Museum of the Cenacolo by Andrea del Sarto at San Salvi, the panel has now made its return to the Uffizi Gallery which purchased it as long ago as 1783.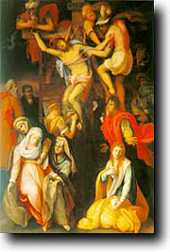 Cigoli, Deposition

It was only possible to restore these paintings - which will be remaining in the rooms of the Museum after the exhibition - thanks to the intervention of the Gruppo VéGé. VéGé has in fact been carrying out an intensive collaboration with the Uffizi Gallery since 1989, financing important diagnostic investigations and the restoration of many masterpieces of 16th century Italian art. "The restoration of Leo X by Raphael and three 16th century masterpieces" Uffizi Museum until June 5th. Hours: 9am-6pm. See also: Notes on the restoration work Interview on the restoration work with Professor Alfio Del Serra





FAN-Florence ART News
a cura di
Silvia Messeri & Sandro Pintus