by Sandro Pintus



Mediartech Special Interview with Francesco Paolantoni, the "Multimedial Grandpa"



Showered with requests for autographs and by the greetings of his admirers, who have recognized him after seeing him in the "Lunedì notte" programme with the mad guys from "Maidiregol", he was not dressed up as "Multimedial Grandpa", but tried to pretend he was his grandson. I managed to convince him to give me an interview and he very politely and kindly agreed to answer a few questions:
What gave you the idea of creating a personage like the multimedial grandfather? It came to me during the rehearsals for the programme with the Gialappas Band. I know next to nothing about Internet. Nor do I know anything about computers.
How did you manage to use such specific language if you know nothing about Internet? I had heard a few technical terms and I learned them without even knowing what on earth they meant. In actual fact I used them at random. Now however I do know what a mouse and a keyboard are.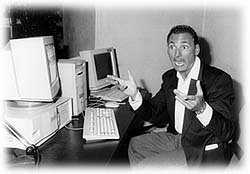 Francesco Paolantoni: the "Multimedial Grandpa" (photo by Torrini fotogiornalismo)

What kind of impact did this Multimedial Grandpa personage have on the public? It had an incredible impact. Internet is a subject of great topical interest. Today everyone is talking about multimediality. I realise that now, after this experience playing this new personality.
Have you got a computer at home? No. Never had a computer. Just the thought of learning how to use a computer terrifies me. However like all technological things it interests me. I adore all technology, I buy all the latest technological inventions: telecameras, television sets and suchlike. I explained that it was much simpler than it looked and suggested he came and visited Mega Review. He sat down in front of the computer and, half amazed and half curious, watched the demonstration of the virtual magazine. He tried out the "Sex & Sentiment" test which was running on the same computer and then asked me to take him to the "Virtual Pilot" section. He sat down in front of the control stick in the same position as Coppi on his bicycle and took off on a trip around the world among the virtual clouds and airports, flying further and further away into cyberspace.

See also: Internet today and tomorrow. Interview with Carlo Massarini The cultural events and the prizewinning works Interview with Maurizio Nichetti A journey into the world of possibilities





FAN-Florence ART News
by
Silvia Messeri & Sandro Pintus