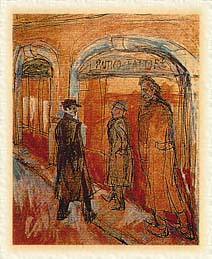 The restaurant "L'Antico Fattore"
with Rosai, Delfini e Landolfi (E.Faraoni)
Lined with stately palaces and ancient houses, Via Lambertesca is a street that curves around from Por S. Maria towards the Uffizi Gallery and, rather like an island, gives us the impression of being stranded in a world that is becoming more crowded every day. The Antico Fattore seems almost to have grown up along with the street: a delightful restaurant that is still very similar to the original ancient trattoria, and which, in spite of being forced by the times to keep up with its contemporaries, has not become vulgar or trite. This place has managed to retain much of the same atmosphere as it had fifty years ago: that daily attraction that comes from the Tuscan cooking of the past, a place where you can go and eat and find a choice of fascinating and wonderfully flavoured food, with the wines chosen by proprietors who really know what they are talking about.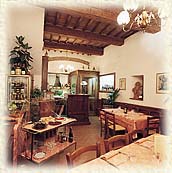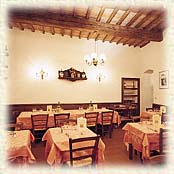 ---
---
ANTICO FATTORE - V.Lambertesca 1/3r FLORENCE
Phone +39 055 288975 - fax +39 055 283341
closed on Sunday
---


© MEGA Via Lombroso 6/5 a
50134 Firenze fax +39 055 412931